August 5, 2019 10:21 pm
Leave your thoughts
If you're in the market for a shipping container, you probably know that purchasing used shipping containers in Houston, TX can save you some money without missing out on any of the performance benefits of new shipping containers. However, not all used shipping containers offer the same level of quality or reliability. Understanding more about how to purchase used shipping containers can help you ensure that you get the most value possible for your investment: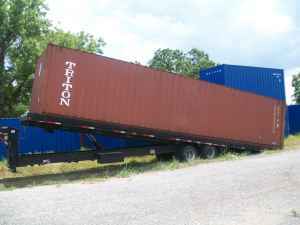 Consider the condition: Appearance isn't everything when it comes to selecting a shipping container, but you should be wary of shipping containers that appear to have experienced excessive wear and tear. The more beat up a shipping container appears, the more likely it is to have some structural damage or weaknesses that could affect its performance and longevity over the long term.
Check the floor: Some people neglect to consider the importance of flooring materials in a shipping container, but this is an essential factor to keep in mind during your search. Some old shipping containers have damaged or rotted flooring that is not strong enough to support any load weight. Inspect flooring closely to ensure that it's in good condition and there isn't any water damage.
Ensure secure doors: You need to make sure that the doors of your storage container will close and latch securely. Test out the doors of the container to ensure that they still have full range of motion and intact locking and hinge mechanisms. Without functioning doors, you will not be able to use your storage container for the kinds of applications that you have in mind.
Inspect for corrosion: Rust is a common issue with metal surfaces, especially metals that are exposed to the elements. Inspect used shipping containers carefully to check for signs of rust. While a small amount of rust is to be expected, you should avoid purchasing a storage container with excessive rust development. Not only does rust detract from the aesthetic appeal of your storage container, it also affects its strength and structural integrity and can contribute to accelerated wear and tear.
Consider application and size: Storage containers come in a variety of different sizes and dimensions, so it's important to consider your individual application when you're looking for a storage container. Think about your particular needs are and how much space you need to meet them. When in doubt, always err on the side of caution and opt for a larger storage container to avoid the risk of getting one that's too small for your application.
Find used shipping containers in Houston, TX
You can find high-quality used shipping containers in Houston, TX by contacting A Mobile Box. We specialize in storage container sales and rental, and we are proud to serve a wide variety of clients in different industries who use storage containers for an array of applications. We deliver our containers within a 300-mile radius of Houston, TX so you can get the containers you need wherever you need them. Give us a call today to learn more about all of the storage container options we offer and to find out about our rent-to-own program.
Categorised in: Shipping Containers
This post was written by Writer