May 4, 2019 4:07 am
Leave your thoughts
Shipping containers provide protection to goods during transport. These containers keep all types of goods, from cars to textiles, safe from the elements during the journey from one part of the world to another. They also help to keep products in place when jostled during shipment. Containers come in many different shapes, sizes and materials to protect various kinds of products.
Often, shipping containers in Houston, TX are recycled for other uses once their products are delivered. Containers might be used as a storage unit or even as a small shop. Check out some of the types of shipping containers commonly repurposed for storage or other uses.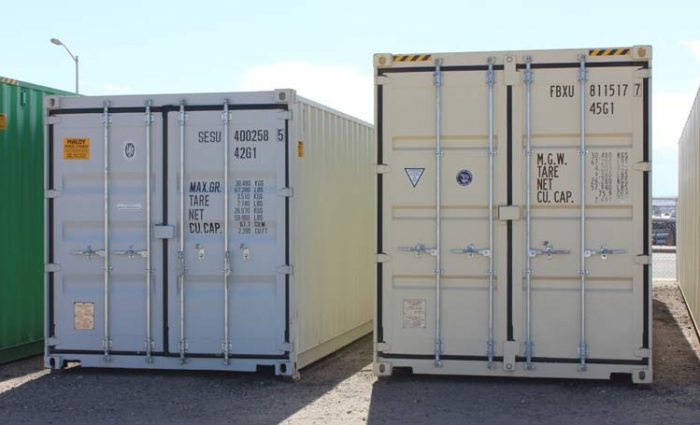 Dry Storage
When you think of large shipping containers, you probably imagine a dry storage container. This is the most common type of container and provides protection from weather and movement to a wide variety of goods. As the name implies, a dry storage container is used to ship dry goods.
Dry storage containers are made in specific dimensions that are standardized by the International Organization for Standardization, known as the ISO. The containers come in lengths of 40 feet, 20 feet or 10 feet. The interior of the container may be configured differently to meet the needs of the cargo being shipped.
Open Top
Open top containers are much like dry containers and usually come in sizes of 20 feet or 40 feet. This type of container is generally made of corrugated steel. The defining factor of an open top container is that the top is made of removable bows. The removable roof makes it easier to load large items or items with difficult dimensions. A crane can be used to lower or lift these items from the top rather than the sides.
Additionally, an open top container can be left open during transit for goods that are too tall for regular dry containers.
Double Door
Double door containers are similar to regular dry storage containers. Commonly found in sizes of 20 feet or 40 feet, double door containers have doors on each end. When open, the container looks similar to a tunnel.
When used for shipping, double door containers make unloading and loading easier. Goods can be unloaded from one end and loaded into the other. Double door shipping containers in Houston, TX are commonly recycled into storage units for residential and commercial use.
HiCube Containers
HiCube containers feature a taller height than the standard dry storage container—usually a foot taller than the standard. This extra height allows for the shipping and storage of taller items or allows for more room to store goods. HiCube units are commonly reused for small studios, housing or retail shops.
Finding the Right Shipping Containers in Houston, TX
Whether you want to create a tiny home or need storage at a construction site, shipping containers are a great option. A Mobile Box provides shipping containers of different dimensions to meet your storage needs. Give us a call today to see our inventory.
Categorised in: Shipping Containers
This post was written by Writer